Design Services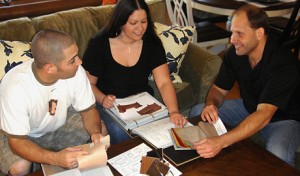 At Couch Potato Furniture we can help you furnish every room in your home. From adult  & children bedrooms to home office, dining and living rooms; we have got it all. We specialize in custom upholstery and take our time to work with you creating the perfect space for your favorite place on earth, your home.

Interior Design
Our team is experienced and available to work with you one on one. We offer in home consultations as part of our design services and also have certified interior designers on site.

Huge Selection
We work hard to selectively seek out quality merchandise at competitive prices. We carry over 40 different vendors and offer everything from very basic & modestly priced to hand crafted custom furniture. We also carry styles varying from modern to traditional and everything in between. If you don't see what you are looking for in store, we can special order it for you.

Custom Design
Here's a common situation, this happens all the time. It's been months and you have been looking everywhere for the perfect piece, nobody seems to have it, (clearly you haven't come to Couch Potato yet)! Either it's too big, too small, or wrong color... look no more, with Couch Potato custom design we can make your dream piece to your liking. Select down to the inch how big you want your couch, order a table with the legs you like best, and chairs to match your decor. With all the selections we make available the possibilities are endless!

Guardian Protection
Kids, pets, and husbands can always wreak havoc on a gorgeous new sofa, but with Guardian Fabric Protection the stains are going to be the only ones to worry. When a product comes with a full replacement warranty you can rest assured that the kids, pets, and husbands of the world will have one less thing to "make their own". Guardian doesn't just help with stains, but it also repels airborne dust and dirt particles, along with a UV inhibitor that helps reduce the effects of fading. A 5 year warranty will give you plenty of time to train your family.