The Couch Potato Advantage
Testimonials
P.D. I had furniture delivered from MB Couch Potato on Thursday. The delivery guys, Patrick and Caleb were great. They were early and also very careful and placed my furniture where I ask them. They also told me to inform you if there was a problem with the furniture and they would be back to check…

more

Susie F. Wonderful experience! Chelsea was super friendly and really knew her stuff. I would definitely buy from them next time we need furniture. The delivery guys were super prompt and friendly. Overall 5 star experience!

more

Al S. Shopped here again, and again was pleased. My wife and I have made our second purchase here and again have no complaints. Customer service was exceptional and the product was delivered on time. No hassle and wasn't trying to be pushed another product like the other place in Paso. Thanks again Couch Potato! Al S.,…

more
Some of our best buys now available at Couch Potato's new online store!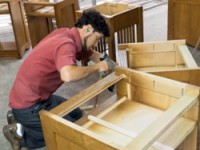 Borkholder Amish Furniture
Couch Potato Furniture is proud to announce that we are now carrying the popular Amish Furniture offerings from Borkholder Amish Furniture. For more than three decades, Borkholder Furniture, based in Nappanee, IN, has been producing heirloom quality, solid wood furniture. All handcrafted in America by Amish artisans, using time-honored techniques passed down through generations.
read more